Michael K. Harrist is a musician and educator based in Boston, MA.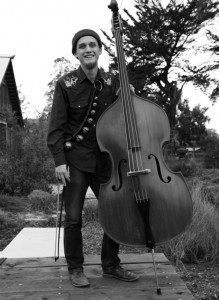 As a double bassist, Michael has performed throughout North America and Europe.  He finds work in various musical traditions including Jazz, Classical and Contemporary Western Art Music, Turkish Art Music and other modal traditions, Early European Music, Blues, Old-Time, New England folk traditions, and Western-Swing.  Michael currently works most frequently with the award winning Gypsy/Flamenco/Swing trio Ameranouche. He has performed in concert with Ross Daly and Kelly Thoma of Crete, Greece and toured extensively with the internationally praised new music ensemble Capillary Action.  Michael is a founding member of the contemporary modal music ensemble Çeşni Trio. He is a respected member of the Boston music community and plays regionally with the Turkish ensemble Orkestra Marhaba and drummer Joe Hunt, among others.
Michael has composed for film, dancers, and various ensembles including Çeşni Trio, Tolgahan Çoğulu, Ameranouche, Sol & Kiel and the Harrist Family Band.  His music seeks to find common ground between the pitch and rhythmic sensitivity of modal traditions and the western polyphonic tradition.  He draws heavily from his background in Jazz improvisation and his studies of various world traditions including Ottoman court music, Romantic harmony and Hindustani music.
As a songwriter, Michael's music infuses ancient mythology and Abrahamic esoterism into imagery from the American landscape and ways of life. He works closely with the themes of longing, love, lonesomness, ecstasy, and the ineffable.  His music is influenced by Townes Van Zandt, Joni Mitchell, Stephen Foster and traditional American songs and hymns.  Michael has also set the words of Rumi, Emily Dickinson, Ikkyu, the Bible, Alex Starkweather Fobes, and Walt Whitman to sound.
Michael strongly believes that music exists to serve something greater than itself.  He is committed to music of the heart and creating in community.  Michael teaches privately and gives workshops throughout the U.S.
Michael studied double bass with James Macdonald at the Open Music Collective in Brattleboro, VT.  He continues his studies with composer William Allaudin Mathieu, neyzen Fred Stubbs and sarangi Pandit Ramesh Mishra.  Mike received his BA in music and religion from Marlboro College under the tutelage of composer Stan Charkey and religion scholar Amer Latif.
You can find Mike's performance and teaching experience here: résumé.